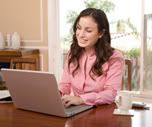 To apply for this job you must live within AAA Mid-Atlantic's footprint, primarily between Richmond, VA; Fredericksburg, VA; Northern VA; and the DC metro and Maryland area.
AAA Mid-Atlantic is currently hiring work-at-home customer service representatives to provide customer service and roadside assistance to its members. Compensation is $7.25 per hour, with additional bonus pay per call.
Hours are flexible, but do include some evenings, weekends, and holidays. You must have a quiet workspace within your home which is free from distractions.
For more information and to apply, visit the Job Page.