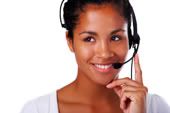 ACD Direct has an immediate need for English and Spanish Speaking customer service representatives to work at home and process inbound calls in their virtual call center. Sales, Bilingual (Spanish), WAH, Volunteer experience a plus! Perfect position for educators, college students, military, retirees and work at home parents. Call Center Experience or Professional Telephone Experience is a Must!
Contractor Responsibilities:
•Professionally handle incoming call requests from customers to ensure programming, equipment, and account needs are met/exceeded.
•Deliver world class customer service by communicating with energy and personal confidence.
•Project enthusiasm, warmth, smile and a "ready to assist" attitude with each call processed.
•Utilize tools and resources we provide to information and assist any caller you may encounter.
•Follow our secure web-based scripting to process each call.
•Verify callers information as it is provided to ensure accuracy.
•Accurately enter information you collect into our secure web-based scripts.
•Ability to multitask.
•Communicate effectively in verbal and written correspondence.
Job Requirements:
•Minimum 6+ months of recent customer service, retail, or call center experience required.
•Moderate level of PC knowledge .
•Strong listening skills, professional telephone manner and ability to deal tactfully and effectively with customers in a fast paced customer focused call center.
•Ability to work effectively in a team environment.
•Strong decision making and analytical abilities.
•Ability to work in a fast paced, production environment.
•High school diploma or GED required.
•Must be able to type a minimum of 30 wpm.
•Must be flexible to work shifts as required (evenings, weekends, and holidays).
•Must be able to pass a background check.
•Must be able to attend all scheduled training classes and pass required exams during a 20 day time period.
•Must be able to provide a distraction free home office environment
•Must be able to meet all the work at home equipment and connectivity requirements
For more information and to apply for this ACD Direct work from home job, visit the Job Page.