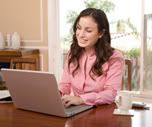 This work at home opportunity is for individuals who live in a 50 Mile Radius of EL PASO, TX.
ACS, is hiring call center agents for a work from home position. This position is responsible for receiving and responding to routine calls from plan participants with questions or issues relating to their health spending accounts or other employee benefits programs. Positions will begin on Monday, 11-2-2009 and the paid training wage is $9.00 per hour. Hired candidates will be required to participate in training at the El Paso call center site for a minimum of 5 weeks prior to going to a Work From Home (WFH) capacity.
After training, shifts will be scheduled between 6:00am and 6:00pm. You must supply your own Cable or DSL internet connection at home. A background check and drug screening will be required.
Job Requirements:
* High School diploma or GED is required. College work is preferred but not required
* At least one year of successful call center experience is required. (within one center)
* Good communications and interpersonal skills are required as is the ability to remain customer service focused.
* Good typing and data entry skills are necessary. Typing must meet 30 wpm.
* Candidates must have proficient reading and math skills.
* The ability to work in a fast-paced, changing environment is essential. Incumbents must be able to learn and adapt to new environments, business processes, and systems quickly.
* The ability to rotate work schedules and work overtime as business needs dictate is also required.
* In general, the ability to commit to a regular work schedule with little absenteeism is critical. Additionally, incumbents must be able to work with defined, rigid schedules in which timed lunches and breaks are predefined.
* Knowledge of federal spending account (FSA) benefits, health saving accounts, commuter benefits and COBRA is preferred but not required.
* Bi-lingual skills are desirable but not a requirement.
* Working knowledge of a PC, business and communications software (preferably Word and Excel, common Windows operating systems, and Outlook) and web-based tools is required.
To apply and for more information, visit the Career Job Page.