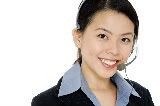 This work at home position is for individuals in the Tampa Bay, Florida area. AnswerFirst Communications, a local family owned and operated Answering Service, is now hiring for full time day, evening, and part time weekend positions.
Applicants must pass a typing test (min. 45 wpm). Must be able to work Saturdays. Once out of initial training operators will be required to work from the office until probationary period has expired then operators will work from home as a Remote Operator. Compensation is $8.00 an hour and $9.50 an hour once you finish the probationary period.
Email lstokes@answerfirst.com to set up an interview.