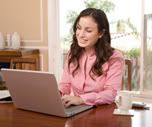 Internet Brands, Inc. is searching for writers for their home related websites, including ApartmentRatings.com, a leading popular community of apartment renters in the United States.
Previous experience/knowledge in the following apartment related categories is helpful: decorating, finding an apartment, gardening, health & safety, legal issues, moving, neighbors, pets, renters insurance, roommates, saving money, and small space ideas.
Please contact Stacey at ibpub@internetbrands.com for more information and visit the Job Page to apply. Please also include a phone number where you can be easily reached.
The compensation is a flat rate averaging $10 per article.