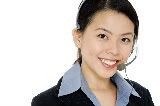 ARO currently employs people across the United States. They hire in the states and geographic locations based upon their clients' needs at any given time. If ARO is currently not hiring in your specific area, your information will be kept on file, and you will be contacted via email when something is available in your area. Shifts are by set schedule, and both full and part-time positions are available. ARO hires work-at-home positions in B2B marketing, sales, and in phone auditing.
Requirements:
* Must have a professional environment at your home.(This includes a dedicated work space with a door)
* Must have a fully updated computer system to utilize during working hours.
* High speed Internet via Cable modem or DSL (at this time satellite internet service is not compatible).
* Must have dedicated voice line with the ability to call Kansas City, MO telephone numbers (816 area code) without incurring a monthly bill that is unmanageable for you to cover (we recommend using an unlimited long distance calling plan if you are not in the Kansas City area, some may require a business plan due to the fact that some residential plans are unable to connect to one number daily without the possibility of being disconnected) or if you have a phone plan that has a QoS packet shaping routers/modems as part of their standard service which allows you to have a Kansas City, MO (816) area code phone number with 2-way dialing.
For more information, visit the ARO Job Page.