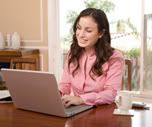 Ask.com is hiring community moderators to work from home. The Ask moderators will be an active and vocal participants inside and outside of Ask, spurring conversations, listening, informing, connecting, and generally making the Ask community a great place.​ Excellent verbal and writing communication skills are vital to the success of this position, a sense of decorum, and a level head.​
Responsibilities:
* Review content submitted for moderation and ensure that it meets community guidelines
* Prepare internal reports on daily community activity
* Serve as an internal voice of Ask to our user community, reinforcing a high quality user experience
* Work through a wide variety of channels to maintain public points of contact with users
* Identify and engage key users
* Engaging users on a personal level while scaling for high volume of contacts
* Designated Ask user community advocate, soliciting product feedback and addressing questions/​concerns
* Compile user feedback and serve directly back to the product/​marketing teams to help build more effective initiatives
* Escalate ideas, issues, concerns and insights to the VP, Community
* Engage Ask's most passionate users to develop a more engaged user community
* Able to resolve user concerns with maturity and poise
* Stay current with emerging trends and social media tools
For more information and to apply, visit the Job Listing Page.