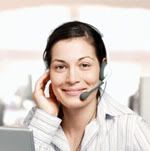 Brighten Communications is a leading business to business telemarketing firm. We have Fortune 1000 clients in a variety of industries including finance, real estate, law, construction, health care, technology, and others.
They are currently hiring part and full time telemarketing sales representatives who:
* Have the ability to work from home during regular business hours
* Have a Windows PC with high speed Internet access at home
* Have an unlimited flat rate long distance plan
The position entails cold calling businesses doing appointment setting and lead generation for our business clients and requires an aggressive, friendly personality, and sales skills.
Compensation for this position is an hourly pay starting at $12 per hour with the opportunity for raises up to $16 per hour for good performance over time. Representatives can work anywhere from 20 to 35 hours per week.
For more information and to apply visit the Job Information Page.