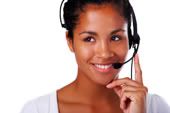 CenturyLink, a leading provider of high-quality voice, broadband and video services, is seeking a data technical specialist to work from home. This position can be filled in the following states based on all requirements listed below:
FL, IN, KS, MN, MO, NC, NE, NJ, NV, OH, PA, SC, TN, TX, VA, and WY
Starting base pay for ALL current employees who transfer to this position will also be $22,968 ($11.00/hr) non-negotiable.
*Bilingual Candidates are Strongly Encouraged to Apply*
This is an "At Home" position. As a Work at Home employee, you are responsible for obtaining your own computer system and home office, consistent with the requirements described below. Due to systems requirements, CenturyLink Work at Home employees must reside within legacy EMBARQ phone service territory.
Responsibilities:
Resolve customers' issues by performing activities either with direct assistance or by appropriate referral. Primary job duties involve technical trouble shooting helpdesk assistance for high speed internet customer. Keep records of customer interactions and transactions, recording details of inquiries, complaints, and comments, as well as actions taken. Check to ensure that appropriate changes were made to resolve customers' problems. Obtain and examine information to verify complaints and to determine possible causes.
For more information and to apply, visit the Job Information Page @ Monster.