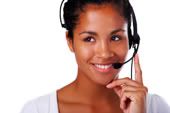 Convergys is hiring for sales and customer service jobs. Associates interface with customers via inbound or outbound calls or the Internet for the purpose of passively (i.e.order taking) or actively selling products and services. Responsibilities include processing customer orders and sales, providing and receiving information, up-selling client products, plus handling miscellaneous customer service and general information calls via the phone or Internet.
Requirements:
– High School Diploma
– Knowledge of basic computer operations
– Willingness to rotate shifts, as needed
– Good listening and responding skills.
For more information and to apply, visit the Convergys Job Listing Page.