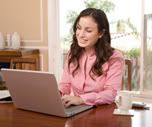 CyberCoders, an established, boutique Public Relations firm with a broad based client portfolio from B2B to consumer packaged goods, is seeking a telecommute public relations manager. Salary is $60,000 to $85,000 a year.
Requirements:
• 5+ years of public relations agency experience, consumer packaged goods experience a plus!
• Stellar track record in media relations – pitching and placement expertise
• Great polish and professionalism
• Bachelor's Degree or greater in a related field
To apply and for more information, visit the Job Page at CareerBuilder.