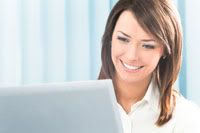 This work at home opportunity is for the Rochester, New York area.
Dining Alliance Inc., a successful and growing 12 year old company which pools the buying power of independent restaurants, is seeking a self-motivated, enthusiastic, well-spoken, outgoing individual who is interested in working from home. The ability to work independently is a must.
They are currently hiring for Data Entry / Administrative Support. This position reports directly to the Administrative Team Leader.
This position is an entry level position and ideal for anyone who enjoys working from home, who lives in the Rochester, NY or surrounding area's and wishes to work a flexible daytime schedule of 25 plus hours per week from the convenience of your home. This is a contract position and pays $10.00/hr.
Applicants must have an updated computer with high speed internet, scanner/printer, telephone with unlimited long distance and a quiet work space. Good working knowledge of Excel and preferably working in Excel 2007. Salesforce experience is a plus. Join our staff and network with others who work from home.
Must be available to travel for mandatory meetings a few times a year, usually in Rochester, but possibly in another state and would require an overnight stay, paid for by Dining Alliance.
To apply, please send a separate cover letter and resume to Katy.gerardo@diningalliance.com.