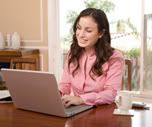 Freelance Pulse is hiring two passionate bloggers to provide users with tips/information that will help them find legit work from home. The people selected for this position will be required to write one article per week and will be required to promote the website's content to the best of their ability.
Requirements:
• A passion for helping people.
• Experience finding work from home jobs.
• A friendly personality
Desired Skills:
• Experience using WordPress.
• Involvement in Social Media
Compensation: $10 per article with escalators
based on the amount of members Freelance Pulse receives. (Escalators will be made clear after writers are selected) (Paid Monthly via PayPal)

How To Apply
Be sure to include any information that could help your chances at getting the position. If you participate in any social networking sites and/or any work from home communities please state which ones and what your username is. Also, please include at least one recurring post ideas.
To apply you may email your resume/writing samples to: Brian@FreelancePulse.com