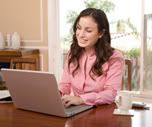 FVTech is hiring work at home data entry/data verification operators. You must be a resident of the state of Utah for this position. Only 12 people will be accepted for the next class so now is the time to apply!
Job Responsibilities include keying Medical Claims from home. There are day, evening, and weekend shifts available. One 4 hour weekend shift is required. There are full time and part time shifts available for those that qualify.
The skills needed from you include:
1. Proof of typing 60 wpm
2. Proof of typing 10,000 kph
3. Ability to work comfortably with computers
4. Ability to work comfortably with Microsoft Keyboard Commands – i.e. Ctrl C, Ctrl A, etc.
5. Versatility in learning to work in mulitple programs in one shift
6. Familiarity with Health Insurance Forms is prefrerred
You must have a computer that has a cabled or DSL internet connection. This is required.
Additional computer requirements include:
1. Windows Xp, Windows Vista or Windows 7 – Home, Professional, or Ultimate – 32 bit or 64 bit
2. Apple and Linux are NOT compatible with our system and will not be accepted
3. 1.5 ghz (1500mhz) and 1 gig (1000 meg) RAM minimum. Intel Pentium 4 or higher minimum or AMD equivalent
4. The minimum required screen size is 19 inches for optimal viewing and data capture
To apply, go to www.learn2type.com and take the typing and ten key test. Copy and paste the test results into an email with your attached resume and send it to dcloward@fvtech.com.