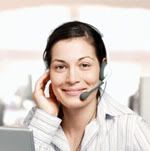 GE Capital is hiring customer service representatives in the state of North Carolina to work from home.
You must be 18 years or older, have a high school diploma or equivalent, and must be willing to take a drug test, submit to a background investigation and submit fingerprints as part of the selection process.
Job Details:
*Answer inbound calls from stores and customers regarding all facets of Client Credit Card(s)
*Resolve credit inquiries on new accounts and authorize sales on existing accounts
*Make use of problem solving/decision making skills to achieve the highest level of customer account life cycle satisfaction.
*Utilize professional techniques to generate additional revenue via retail, credit, and/or product marketing
*Maintain and improve customer/client relations
*Consistently improve overall activation and retention of cardholders.
*Utilize telephone, PC, photocopier, fax machine and calculator
*Continuous maintenance of customer profile via PC, as a result of written or verbal requests from customers
*Performs other duties as assigned
For more information and to apply, visit the GE Capital Employment Page.