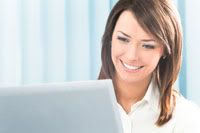 Hertz, a car rental company is seeking candidates to join their Reservations team. This position is a home based job, working part-time from your home. All applicants must be available to work any hours, including weekends and holidays. Your job will be to sell Hertz car rental reservations for Hertz locations in the United States and Canada and provides accurate rate and customer rental qualification information requested through the Hertz toll-free number.
You MUST be within a one hour commuting distance of Mobile, Alabama.
Requirements:
– Must be able to type 20WPM(test will be given)
– The willingness to work any assigned part-time shift between 7:00 a.m. and 2:30 a.m., including weekends and holidays.
– Excellent customer service and verbal communication skills
– Starting pay for this position is $10.25 per hour
– Must provide a dedicated phone line and high speed internet connection (satellite, wireless, & dial-up are not acceptable).
– Must be able to maintain a professional, quiet, safe office environment. Computer and Phone equipment will be provided.
– Onsite training at the Reservations Center in Mobile, Alabama will be required.
For more information and to apply, visit Hertz Job Information Page.