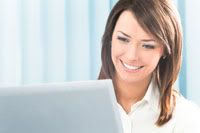 InContact is seeking a bilingual (English/Spanish) transcriptionist to work from home. The inContact Transcription Specialist transcribes recorded messages and/or calls and documents them in the required system. This position is designed to be a part time, work from home position with little or no supervision. Employees will be required to work at inContact's Headquarters office in Salt Lake City, Utah for a minimum of 30 days at the beginning of employment. After your training has been completed, you may work from home.
Major Functions and Responsibilities:
* Transcribe messages and/or calls as assigned.
* Ensure quality and accuracy of finished transcriptions.
* Develop new procedures as needed to maximize efficiency and productivity.
* Assist new transcription specialist with questions and concerns as directed by management.
* Self-manage time and efforts to meet or exceed expectations of 30 transcriptions per hour.
* Attend meetings and trainings as necessary.
Required Education and Experience:
* High School Diploma or equivalent
* 1 year basic to intermediate computer usage.
* Minimum of 45 wpm typing speed,
* Must be able to transcribe Spanish to English transcriptions
* Previous transcription experience
* Previous call center experience
For more information and to apply, visit the Job Page at CareerBuilder.