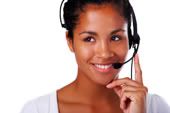 Language Line is seeking work at home phone interpreters within the US. As an over-the-phone interpreter, you will listen to a limited English speaker, analyze the person's message, and accurately convey its meaning to a Language Line Services client.
On any particular call, you may be helping someone who is…
* Calling 911 during an emergency,
* Reporting an accident to their insurance company
* Receiving instructions about completing a Medicaid form
* Making a police report
* Opening a checking account
* Applying for a credit card
* And so much more
If you have native, or near native proficiency in English and a non-English language, good customer service skills, and good memory retention, Language Line will be happy to train you with the rest.
For more information and to apply, visit Language Line.