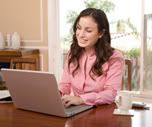 Leapforce is looking for highly educated individuals for a Search Engine Evaluator work from home opportunity. Applicants must be self motivated and internet savvy. This is an opportunity to evaluate and improve search engine results for one of the world's largest internet search engine companies.
Ideal Search Engine Evaluators will possess the following skills:
* Have in-depth, up-to-date familiarity with American social culture, media, and web culture
* Excellent comprehension and written communication skills in English
* Broad range of interests, with specific areas of expertise a plus
* University degree or equivalent experience (degrees in-progress are acceptable).
* Excellent web research skills and analytical abilities.
* Ability to work independently under minimal supervision
* Possess a high speed internet connection (DSL, Cable Modem, etc.)
For more information visit the Leapforce Employment Application.