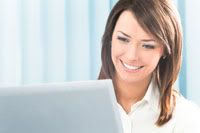 Being a work at home mom has many benefits, but can also lead to plenty of headaches if you're not fully prepared. Today, I'm going to offer up a few lessons from real mothers working from home and getting paid!
Preparation Is Key
Writing my schedule out before I get started for the day is the best suggestion I can provide. Going into your day haphazardly with no goals set is a huge no-no. Go to an office supply store and purchase a planner, it's an easy solution to holding yourself accountable for your daily tasks.
– Terri H.
Set A Work Schedule
The best thing I ever did was set a work schedule. I had a huge problem with procrastination and completing my workload every day. Establishing a clear routine has allowed me to get more done.
– Melanie R.
Network And Get Out Of The House
Sometimes I just need a break. I get tired of sitting in the house and must get out to keep my sanity. Facebook and Meetup were great websites for me to meet other stay at home moms and dads in my area. We organize play groups and discuss new job leads and opportunities. My friends who work a traditional 9 to 5 rarely understand what I'm going through, and it's good to have people around who share the same experiences that I do. I recommend that all work at home parents get out the house, even if it's only to walk around the block.
– Elizabeth E.
Family Support
Being a stay at home mom who works from home is hard for most of us if we don't have support from our family. I sat my husband and kids down when I made the decision to work from home. They were very receptive to the idea and we came up with a schedule that works for both me and the family. Getting them on board should be your number one priority, because it will truly make your life easier.
– Rochelle B.
Recommended Resources:
The Recession-Busting Guide To Making Money Online From Home
by Clark Covington
The Work-at-Home Success Bible: A Complete Guide for Women: Start Your Own Business; Balance Work and Home Life; Develop Telecommuting Strategies
by Leslie Truex
Virtual Assistant, The Series: Become a Highly Successful, Sought After VA
by Diana Ennen
Undress for Success: The Naked Truth about Making Money at Home
by Kate Lister