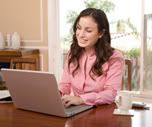 Medco, a leading pharmacy benefit manager, is hiring customer service representatives to work from home.
The Customer Service Representatives main responsibilities are to:
– Effectively manage every call in a professional and knowledgeable manner answering questions and resolving problems to their ability.
– Effectively manage every call by giving accurate and current information 100% of the time, while educating the customer on their prescription drug benefits.
– Correctly transfer appropriate calls to the appropriate personnel.
– Other responsibilities/duties as assigned.
Minimum qualifications for this exciting new position are:
– Minimum 1 year of customer service experience required
– High School Diploma or GED
– Proficiency in Windows-based environment
– Excellent communication skills
– Stable work history
– Ability to maintain a high degree of professionalism
For more information and to apply, visit Medco's Job Application Page.