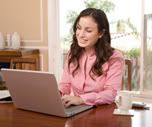 Quest Diagnostics has an opening available for a part time work from home teleinterviewer. You would need to be available to work from the Lee's Summit, MO office for 6-8 weeks for training before working from home. This position completes insurance applications via telephone for a single client company. There are currently two evening shifts available.
Your principal responsibilities would include completing interviews with insurance applicants via telephone, and review and edit information collected during the interview for quality assurance purposes. . These interviews will include gathering medical, financial, occupational, and avocation histories.
Minimum Skills Required are: ability to type 25 wpm adjusted for accuracy, strong communication skills, proficient teamwork skills, good work attendance record, organizational skills, and at least six months of customer service experience.
For more information and to apply, visit the Career Builder Job Page.