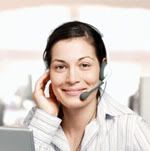 Tag Support is seeking work at home customer service reps. Representatives will provide assistance, perform account research, quote rates, and answer questions regarding reservations. You must live within driving distance to the Shreveport & Bossier area (Louisiana).
The home based Customer Service Representative interacts with customers and representatives from other lines of business to handle a variety of functions. This position is a work from home position; however applicants must live within driving distance from their facility because training will be held on site and occasionally representatives will be required to visit their location for refresher training. The position is a full or part-time position and a temporary position that starts in the Spring of 2010.
Pay rate is $9.00 an hour and the company will provide the necessary equipment to work.
Position Requirements
o At least 18 years of age
o Must have a quiet room
o Must have a home phone line, computer, and DSL or Cable internet connection
o Must live within driving distance to the Shreveport & Bossier area
o At least one year of customer service experience
o Ability to multi-task, use multiple computer applications simultaneously and be proficient with Windows programs
o Strong problem solving skills with customer focus and effective communication
o Must be able to work a 40 hour weekly schedule
o Pre-employment background checks and drug screens required
To apply and for more information, visit the Job Page at CareerBuilder.