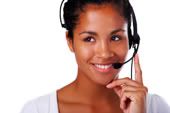 Technisource is seeking work from home help desk candidates for one of their clients. The pay rate for this job is $14.00 an hour.
It is a 24-7 operation so techs should be available for shifts almost anytime. Typically, the latest shift ends at 2:00am Eastern Time. They do a shift bid similar to the Call Center shift bid. New hires are in remote training for the first 2 weeks of employment from 9:00am – 5:30pm Eastern Time, Monday through Friday. Last, training is conducted via "GoTo Meeting" with a live instructor.
Job Requirements:
* Must have at least one certification – A+ or MCP
* Must be thick skinned and understand that the callers will be frustrated.
* 3 years of current IT support experience (help desk, call center, desktop etc)
* Must pass ProveIt tests with an 85% or better and test should be completed within 15-20 minutes.
* Must be able to translate technical terms to non-technical candidates
For more information and to apply, visit the Application Page on Careerbuilder.