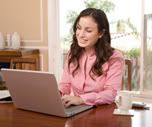 This work from opportunity is for Texas residents only.
TeleNetwork is hiring for technical support positions. You will be an On-Call Tech. When the call volume warrants, you will be contacted by a supervisor to take calls on your provided VoIP phone until you are no longer needed.
Qualifications
• Exceptional customer focus with an emphasis on enhancing the customer experience
• Good oral and written communication skills
• Ability to handle a high volume of phone calls in a structured environment
• Proficient in Windows-based computer skills
For more information and to apply, visit the Job Listing Page on CareerBuilder.