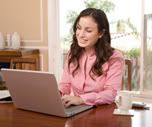 Termanix is hiring customer service agents to work at home. This is the home-based customer service role. Receives and/or places telephone calls which are basic and routine in nature to handle any/all aspects of customer accounts, including solicitation, inquiries, and problem resolution. Acts as the customer advocate for all customer service issues. Uses computerized system for tracking, information gathering, and/or troubleshooting. Ensures that customers receive the best service possible through processing orders, preparing general correspondence and coordinating with other functions as required.
Acts as customer contact regarding scheduling, service and billing.
Responsibilities:
1. Handles customer calls/correspondence for customer scheduling and inquiries
2. Offers assistance to customers with service, billing or other issues
3. Records all customer information and call history information accurately on appropriate paperwork or electronic systems
4. Ensures maximum sensitivity, proper routing and responsiveness to all customer requirements
5. Maintains level of knowledge and understanding of features of service, operating systems, marketing promos and special offers
6. Work flexible hours based on seasonality and business requirements
Competencies:
• ServiceMaster Commitment
• Customer Orientation/Positive Impact
• Results Orientations/Sense of Urgency
• Change Mastery
• Relationship Building/Sensitivity
• Problem Solving and Decision Making
• Initiative
Education and Experience Requirements:
• High School Diploma or general education degree (GED); or one to two years of related experience and/or training; or equivalent combination of education and experience
• Six (6) months to one year clerical or customer service experience
Knowledge, Skills, and Abilities:
• Basic knowledge of Microsoft Word, Excel and Windows
• Strong oral and written communication skills
• Strong problem-solving skills
• Ability to type 25 wpm
• Ability to utilize a personal computer or CRT
• Ability to work from home and maintain expected productivity
• Ability to work flexible work shifts
For more information and to apply, visit the Job Ad.