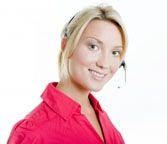 Tiffany & Co. is currently seeking Home-Based flex Sales and Service Professionals. You must live in the Las Vegas area and be able totrain on-site, full-time, Monday to Friday from 9am to 5pm for the first 4 weeks of employment.
Afternoon and Evening shifts available for Part-time Flex – Work 20 to 25 hours per week flex-up to 40 hours per week during peak times as required. Reporting from home and supporting their Global and Domestic E-commerce business, you will answer inbound telephone calls on Tiffany & Co's 800 line and respond to Internet e-mails to assist customers with placing orders, provide product information, investigate and resolve customer service issues and process customer orders.
Additional Requirements:
You must have the ability to effectively communicate in English. Demonstrated computer and Internet skills (these skills will be evaluated) are required along with exceptional written and oral communication skills. Additionally, successful candidates will have prior professional customer Service experience. Mandatory six-day work week from Thanksgiving to Christmas. Must be able to work overtime and weekends.
For more information and to apply, visit the Job Information Page.