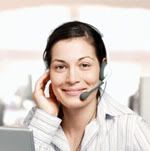 VoiceLog is hiring live operators to work at home during the hours of 8am EST to midnight EST Monday-Friday and every other weekend. You can choose to work shifts of 2, 3, 4, 5, or 6 hours. As an inbound live operator verification agent, you will earn a guaranteed minimum $8.50 per hour. Pay increases commensurate with performance. Operators receive live verification calls for telephone companies and other service industries looking to help combat sales fraud.
Minimum Requirements:
* Quiet home office setting
* Personal computer running Microsoft 2000, Microsoft XP or MAC
* At least 1 Gigabyte of RAM is required
* CPU (processor) of at least a Pentium 4 1.6 GHz or higher
* Internet Explorer 6.0
* Microsoft Word, Excel and a working printer
* Paid e-mail provider that allows enough space to receive fairly large documents
* Reliable DSL or Cable HIGH SPEED Internet access (dialup or satellite not acceptable)
* Current anti-virus software and Ad-Ware software
* AOL Instant Messenger account
* At least 1 year of customer service experience (inbound or outbound call center)
* A second phone line (already installed) dedicated to accepting inbound calls, with no features
(no VOIP, no digital phone, no call waiting, voicemail etc.)
To apply, visit the VoiceLog Application Page.