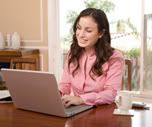 Write articles, meal plans, and more for a new cooking membership site primarily teaching moms how to cook for their families, and make dough teaching others how to make dough! Nutritionists and chefs preferred, but super-foodies are also encouraged to apply.
If you're adept at video, and would also like to share your skills that way, even better! Payment is on a per-article basis.
To apply, send 3 links to your strongest cooking-related pieces, as well as any relevant cooking experience, to haidn@zeppelincorp.com.